White Pine Books & Children's Boutique - Arnprior
Listing Contact: Email: thebookshop@magma.ca
Website
Location: 613-623-8800
152 John St. N. Arnprior K7S 2N7
Gwen Storie founded The Arnprior Bookshop in 1993. Her daughter, Jen Rusheleau, is the new owner, and renamed it White Pine Books + Children's Boutique to celebrate Gwen's work in running an independent book store in these times. It's a tribute to Ontario's tallest tree, which grows just minutes from the shop's door and has survived and flourished against all odds, reaching 13 stories high by today's measurements. Like the shop, this tree is a proud part of the Arnprior community and a symbol of resilience and determination. Jen is a mother of four, and so has added a children's boutique stocked with eco-friendly, responsibly sourced apparel, providing families with a shopping experience they can feel good about.
All Hosted Events
Twas the Night Before Christmas with Santa
Profile by theHumm
Date Published: Fri, 01 Mar 2013
Local Book Shop Celebrates 20 Years
Nestled along Arnprior's main street between Bonnie Jane's Coffee Shop and The Gallery Gift Shop, this charming one-and-a-half storey mecca of books has become the unofficial gathering place for story loves and those with stories to tell. The shop is a literary water-cooler where folks discuss old favourites and hot-off-the-press sensations; it's a fresh and welcoming place for children's story time, and an intimate and sympathetic setting for local artists and those of national acclaim who comes to share their works.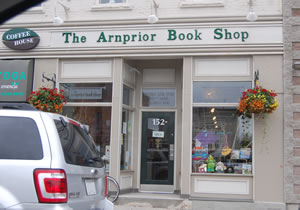 Storie, along with booksellers Debbie Gahan and Pam Mitchell who have been with the shop from the start, all have an appreciation for books that runs deep. Their recommndations are impeccable and the shop's offerings are as irresistible as the coffee and scones served in the connecting shop.
It takes a dedicated soul to carry the bibliophile torch these days, but Storie is meeting the challenges of today's market with finesse. "My main attraction is the fact that I am still an old-fashioned bookstore," she says. Trends and business practices have changed rapidly since the days when Storie poured over publishing directories and bestseller lists. Although the shop has diversified organically over the years, reflecting changes in the community, it has retained the small and personal nature that gives it an edge over the large box stores and online e-tailers. Storie is somewhat dismayed over giving up bookshelf space for gifts, but she does what is necessary to survive the vagaries of the marketplace.
As with any local business, the shop's strength lies in the value it adds to its community. Storie, who has never thought of her store as a retail outlet, has created a vibrant shop that is an integral part of the downtown landscape, providing space for book lovers, new moms, seniors, and those in want of a place to linger. It is a space to engage in face-to-face communication about everything from books to the local hockey team or the weather. And now, twenty years along, The Arnprior Book Shop is providing a place for a new generation of book lovers to find inspiration and sustenance for the soul. "It's always exciting to share new books with children whose parents came by the shop when they were young," says bookseller Gahan.
What Storie has enjoyed most over the last twenty years "would be in equal measure: the books themselves as they come in the door, the people that I have worked with (they are treasures themselves), of course the customers, and once again, the books themselves," she says with a gentle wit that punctuates her love of the product she shares.
"I feel very grateful and blessed to have been a part of this business. And if in a small way I have been a part of the magical alchemy of people and chatting and books and ideas and community then I believe that I have accomplished what I set out to do." And we are thankful for that, because, to take some liberties with a Cicero quote, a community without books is like a body without a soul.
Get in touch
For full contact details, visit theHumm's Local Directory.
Humm Contributor: Robyn Eagan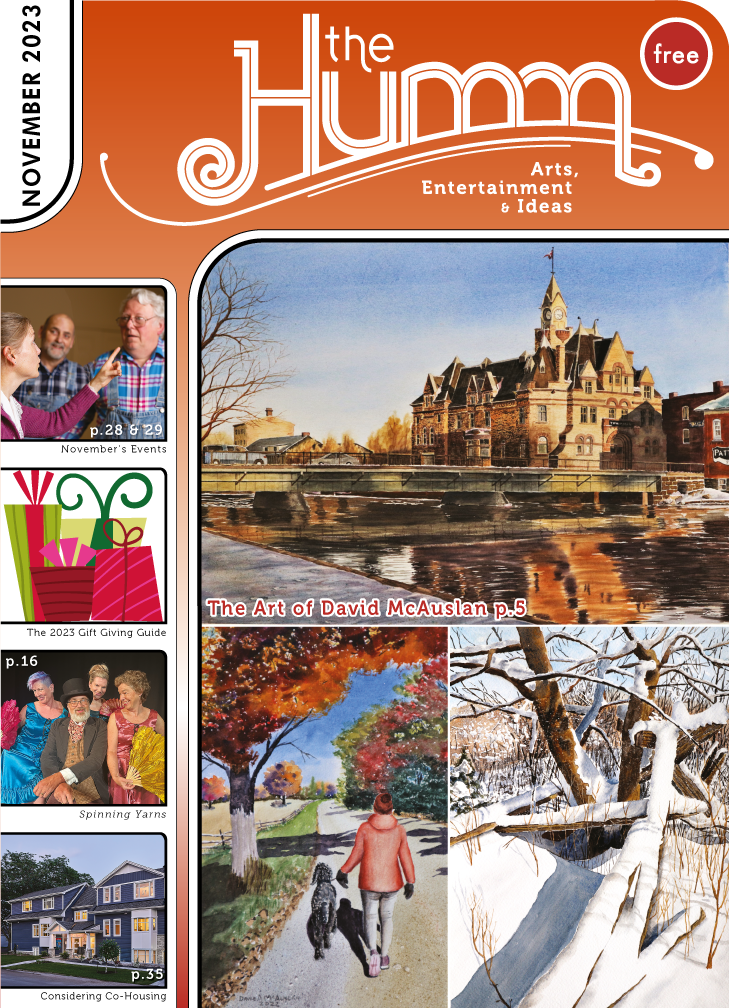 (pdf)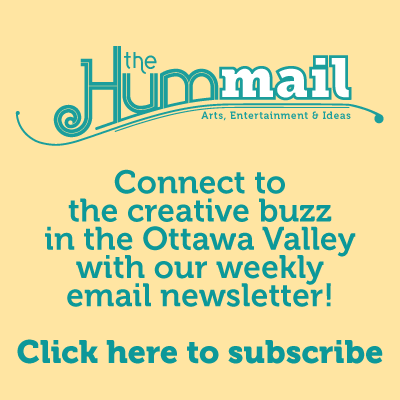 November 2023