Almonte Old Town Hall - Almonte ON
Listing Contact:
Website
Location: 613-256-7464
14 Bridge Street Almonte ON K0A 1A0
This beautiful heritage building, by the river, in the centre of Almonte, is home to a premiere performance facility. It's stage has hosted classical, folk, pop, and rock concerts, as well as recording performances for later audio and video broadcasts. Plays, art shows, puppet-making workshops, wedding receptions, fundraisers, galas, dances and information sessions have also been held here..
The second floor multi-purpose room is an excellent space for small receptions, meetings, classes, small lectures, art displays, dance classes and yoga, or as a green room for performers.
Related Articles:
Family Time & Mid-Winter Milling! February 2020
All Hosted Events
Folkus: The Pairs/Tragedy Ann [moved from Jan 29 to Jun 4]
Sat, 04 Jun 2022 - Sat, 04 Jun
Time: 8:00PM
Cost: $30 in person; $20 live stream
Tragedy Ann are based in Guelph. With intimacy and care, Liv Cazzola and Braden Phelan favour a flashlight over a spotlight in songs for community, nature, and hardworking hospital staff. Braiding organic vocal harmonies with accordion, singing saw, guitars, and ukulele, Tragedy Ann's arrangements are as delicate as they are driving. The Pairs are a joyous and energetic female-fronted folk-pop group hailing from London, Ontario. Led by the powerhouse (classically trained) vocals of Renee and Noelle Coughlin and Hillary Watson. They are backed by recovering punk drummer Steve Plimmer. The Pairs create acoustic harmony pop tunes grounded in unique rhythms that will hug your ear drums and inspire you to dance.
Organised By:
Folkus Concert Series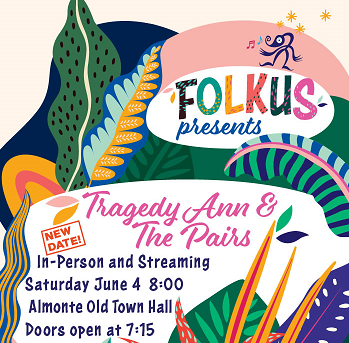 Venue detail
14 Bridge Street , Almonte , ON
K0A 1A0
613-256-7464

Rag Bag Cabaret
Fri, 27 May 2022 - Fri, 27 May
Time: 7:00PM
Cost: $40; $30 in adv
Comedy, drag, burlesque, music & more, hosted by Rachelle Elie. Cash bar opens 7pm, show at 8pm. Tix: TicketsPlease.ca.
Organised By:
Rag Bag Cabaret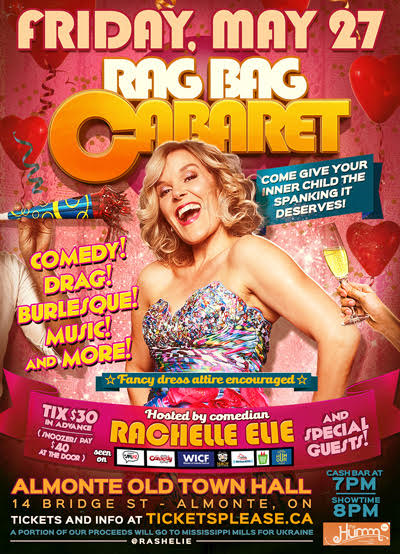 Venue detail
14 Bridge Street , Almonte , ON
K0A 1A0
613-256-7464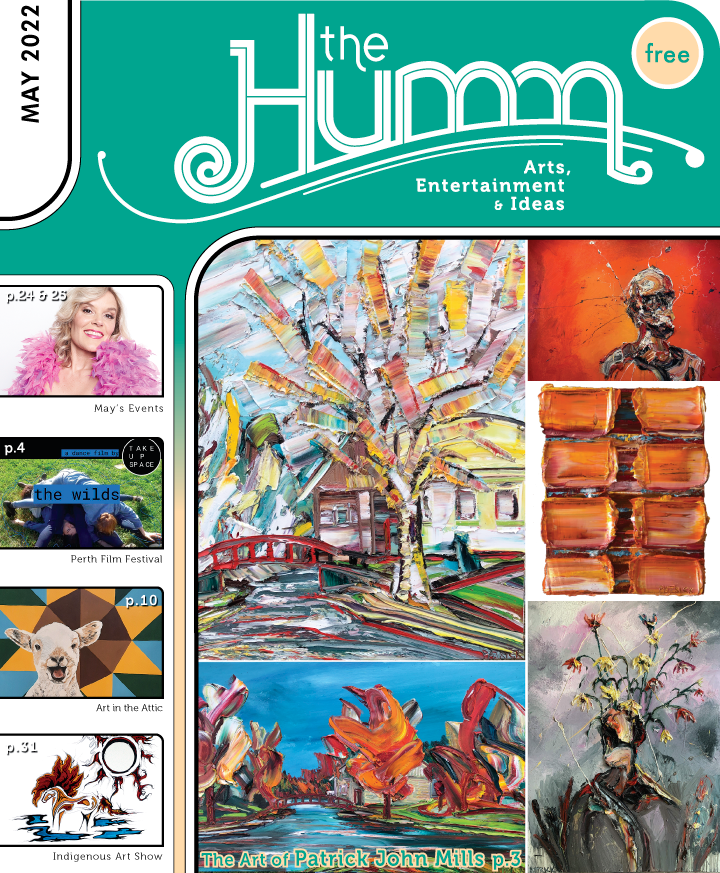 (pdf)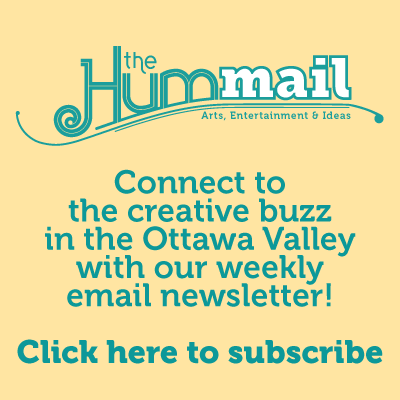 May 2022