Linda Manzer, Luthier - Almonte ON
Visual Arts - Local Artists
Listing Contact: Email: linda@manzer.com
Website
Location:
Almonte ON K0A 1A0
Linda Manzer is an extraordinary Canadian luthier who has built guitars for legendary jazz guitarist Pat Metheny, Canada's beloved Bruce Cockburn and Gordon Lightfoot, Brazil's world-famous singer/song-writer Milton Nascimento, Paul Simon, and many other re-nowned guitarists.
Manzer has set up a luthier studio in Almonte that she shares with apprentice luthier and singer/songwriter Peggy White.
Profile by theHumm
Date Published: Wed, 01 Oct 2014
Building Guitars that Inspire the Guitarist
Almonte has a new artistic luminary in its midst. Linda Manzer is an extraordinary Canadian luthier who has built guitars for legendary jazz guitarist Pat Metheny, Canada's beloved Bruce Cockburn and Gordon Lightfoot, Brazil's world-famous singer/song-writer Milton Nascimento, Paul Simon, and many other renowned guitarists. Her guitars have been displayed in Ottawa's Museum of Civilization, in Washington in the Smithsonian, and at Boston's Museum of Fine Arts. Very few people in Almonte know who she is. Even fewer know she has set up a luthier studio here that she shares with apprentice luthier and singer/songwriter Peggy White.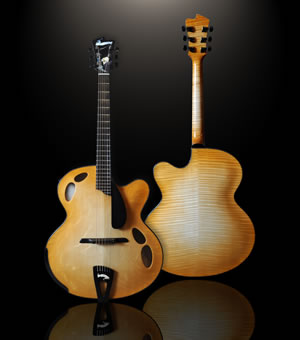 Manzer's public visibility is tightly coupled to the fame of her customers. Just a few weeks ago she made CBC news headlines when Stephen Fearing, guitarist of Blackie and the Rodeo Kings, waged a Twitter war with Air Canada after he claimed the airline lost his valuable Manzer guitar for two days on a flight from London to Halifax. Fearing said the guitar, which he purchased in 1990, was insured. "That's not the point," he said. "It's got my blood, sweat and tears in it and I love it to bits. It's a rare, precious thing."
Just Her Cup of Tea
Manzer credits her collaboration with Pat Metheny as the turning point in her career. She first heard Metheny play guitar at a Joni Mitchell concert in Detroit. As she describes it in an excellent CBC documentary produced in 2011 for Patty Schmidt's "Inside the Music" program: "…in the middle of the song this man steps forward… he played a song; about three notes and my world changed." Manzer became an instant fan, and at a Metheny concert in 1982 she found the nerve to send a note backstage inviting Pat to her workshop the next day "to have a cup of tea." Instead he sent word he wanted to meet her after the concert, and after playing two of her instruments, Metheny said he wanted to buy one. In the documentary, he says "…with Linda, there was an instant recognition that this instrument was on an entirely different level… like when I sit down at a great German Steinway — the first time I'd ever felt that from a steel string acoustic guitar… there was this incredible balance from the bottom to the top…" As a result, Linda created the guitar the duo have dubbed the "Linda 6". Months later she watched as Metheny walked on stage in Toronto at Ontario Place and played her guitar.
Lots of Strings Attached
Metheny describes Manzer's guitars as inspirational, and that is Manzer's goal. She creates her guitars as "tools that inspire musicians to want to play them and create wonderful music." Over three-plus decades the Manzer-Metheny duo has collaborated on a number of unique instruments. In 1984, when Metheny challenged Manzer to create a guitar with as many strings as possible, she spent four months designing, and five months building, the Pikasso, replete with two soundholes, three necks and 42 strings in four groups. She invented a special feature known as "The Wedge," a tapered body shape that makes the side closest to the player thinner than the side that rests on the player's knee.
In 2012 Metheny and "pioneering designer" Manzer were recipients of the Tribeca Disruptive Innovation Awards (TDIA), celebrating "those whose ideas have broken the mold to create significant impact." You can find a link to the Youtube video of Metheny playing his Pikasso at <thehumm.com> – minute 4 is amazing.
No Resting on Her Laurels
Linda Manzer is refreshingly down to earth. When I ask her how she handles fame, she laughs and says, "Luckily, it took so long I can't take it seriously." She also states that you "have to be honest with yourself to be a woodworker." She has been purchasing and drying superb woods for over thirty years. When she shows me the tools she works with and the tolerances (one tenth of a mm, or about the depth of a sheet of paper), I understand what she means. Since coming to Almonte, Manzer treasures the set of Japanese chisels given to her by Leonard Lee; they "became an indispensable part of my hand-tools instantly."
When I interview her she is working on a guitar that is going to Japan, and has just decided to remake the neck because it isn't exactly the way she wants it. This is her biggest challenge, because, like Voltaire, she knows that the best is the enemy of the good. In four decades, Manzer has produced almost five hundred hand-built instruments good enough to position her among the world's best luthiers.
The creative energy that made her the perfect collaborator with equally innovative Pat Metheny remains intact. She is working with six other luthiers with Toronto connections on a project she proposed to the McMichael Canadian Art Collection in Kleinsburg. Each luthier is building a guitar that will be displayed as a tribute to one of Canada's famed Group of Seven artists, with an accompanying book and film.
Stringing Us Along
Not content with an internationally acclaimed 42-string instrument, Linda has entered into a friendly competition with California luthier Fred Carlson, creator of the 39-string acoustic Harp-Sympitar. Both luthiers are known for making guitars with "too many strings", and have come up with an inside joke to see who can build a functional guitar with the most strings. As Linda tells "The Agenda's" Steve Paikin (in a great interview embedded below), she loves a challenge.
No Strings Attached
As a woman, Manzer fought an uphill battle to become a luthier, and she tells a funny story about how she convinced her first teacher, Jean-Claude Larrivée, to take her on as a student in 1974. He told her he was a male chauvinist pig and didn't want to teach a woman, but Linda could hear Larrivée's wife laughing in the background, so she persisted. Linda later studied with Jimmy D'Aquisto, who was trained by, and the successor to, renowned luthier John D'Angelico.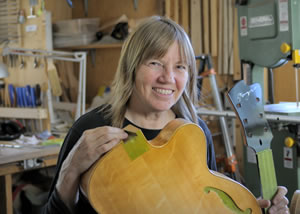 Self-described as a "bad folk-singer" as a teenager, Manzer credits her unhappiness in art school at the Nova Scotia College of Art and Design with becoming a luthier. She realized that guitar making combined all the things she loved most — art, design, music and making musical instruments — and she decided to follow her roommate's advice and focus. She quit school and called Larrivée. She is extremely focused.
Manzer loves being in Almonte. She is outspoken in her praise of apprentice Peggy White's capabilities as a luthier. Linda loves to teach, and Peggy has an intuitive feel for building guitars that is exceptional. As a newcomer, Linda is lending her voice in support of the Mississippi RiverWatchers' advocacy regarding the proposed expansion of the Enerdu power generation facility located just downstream of the train bridge in Almonte.
Get in touch
For full contact details, a photo gallery of Manzer's work and more, follow the links at the top of this page.
Humm profile by Sally Hansen
Luthier Linda Manzer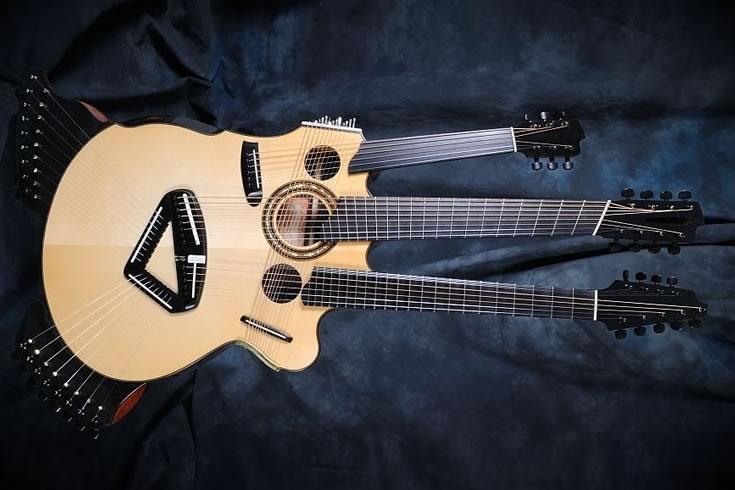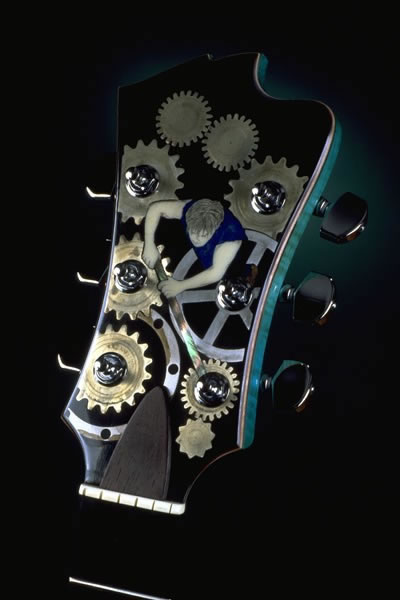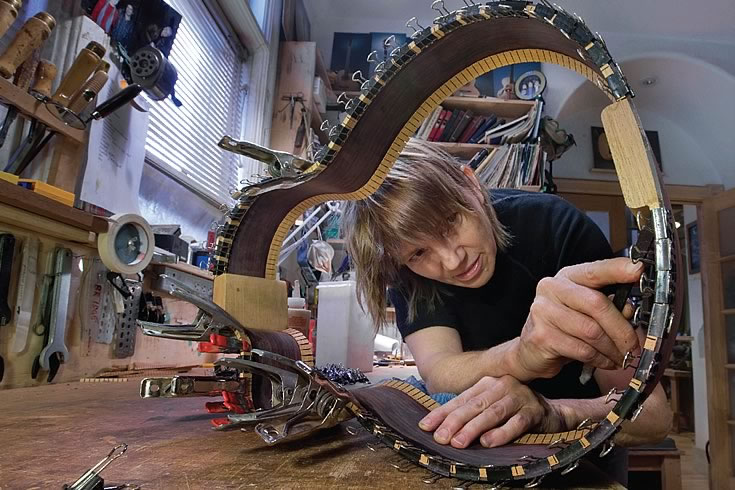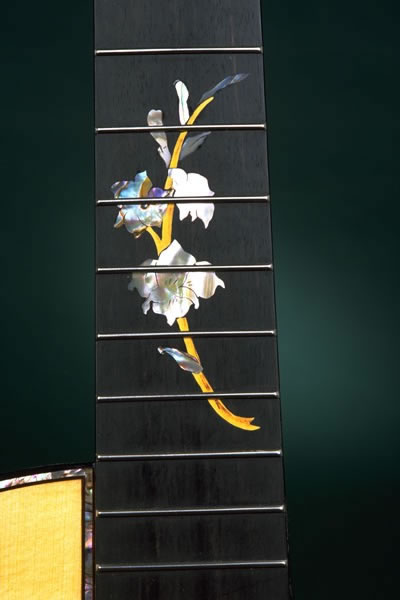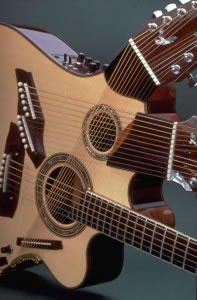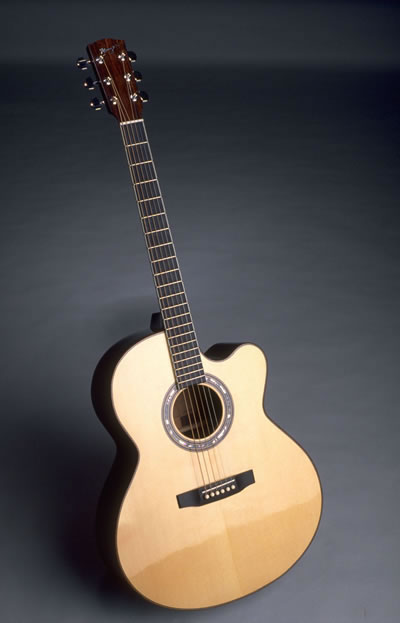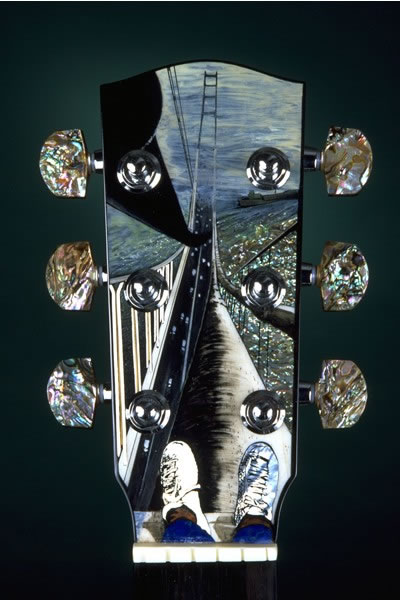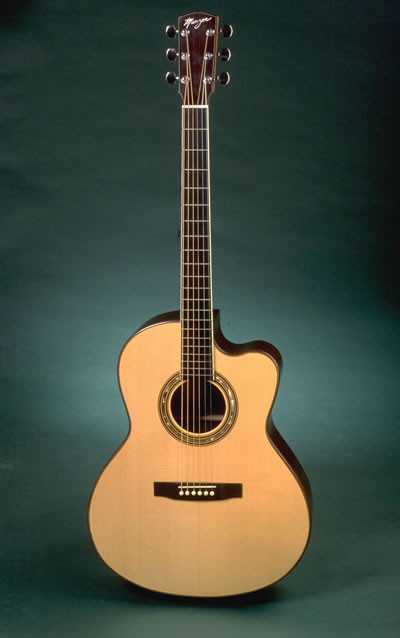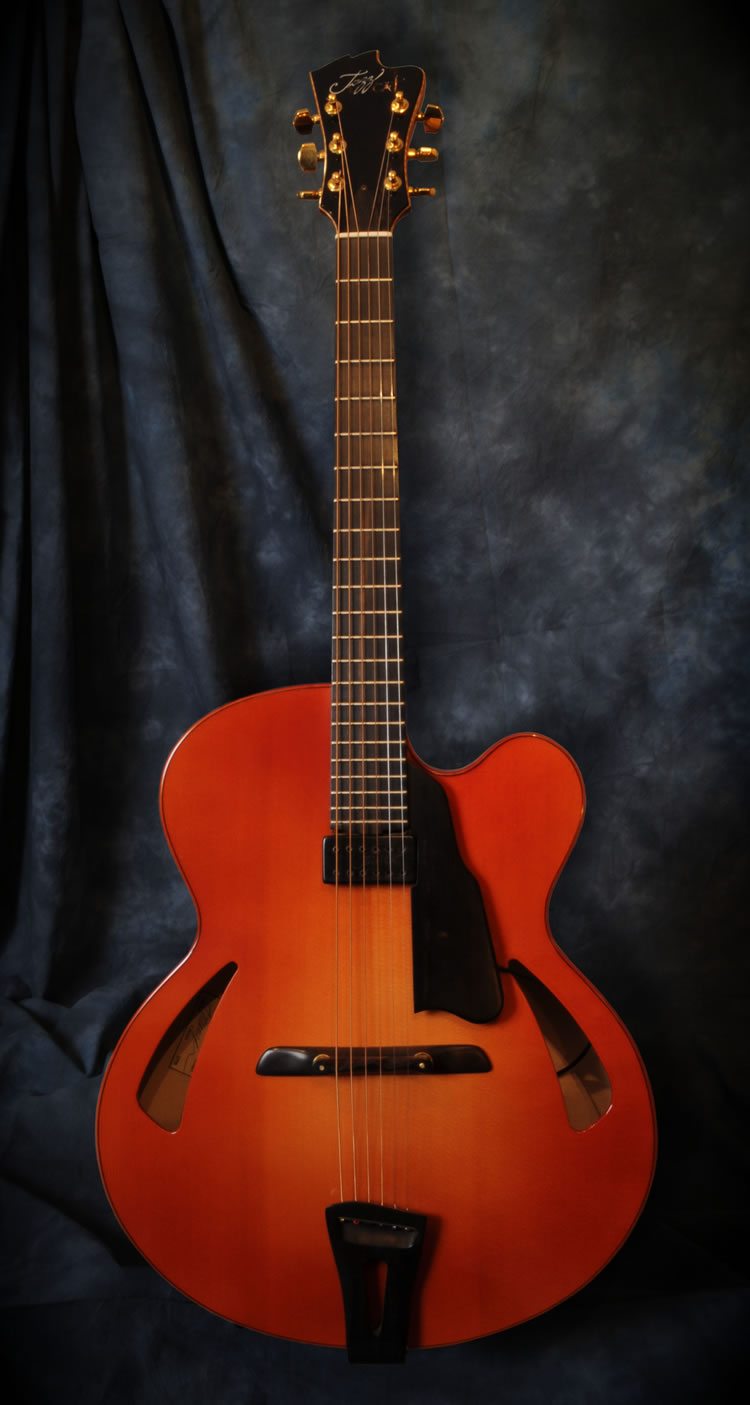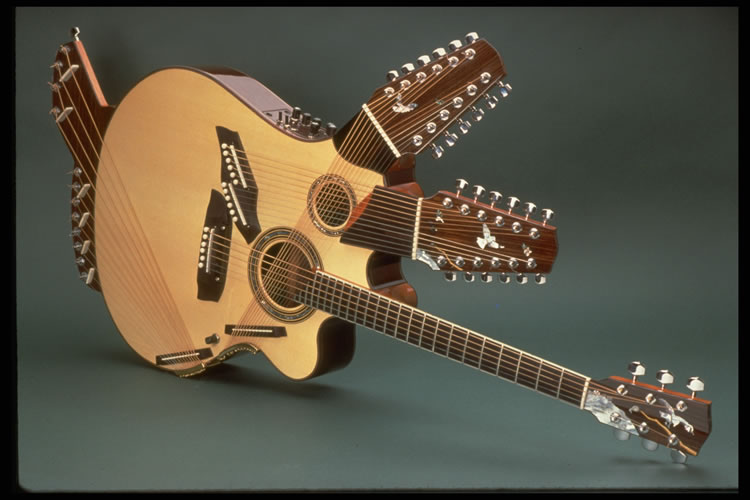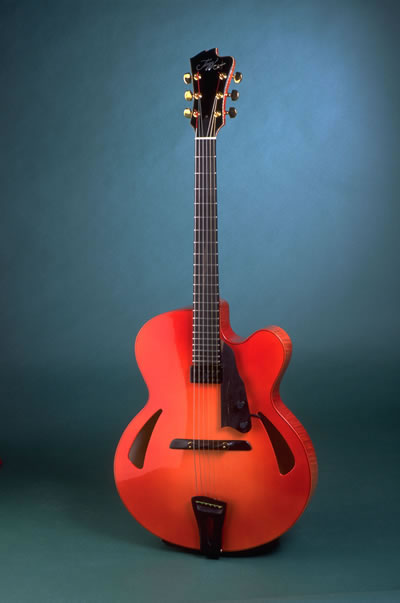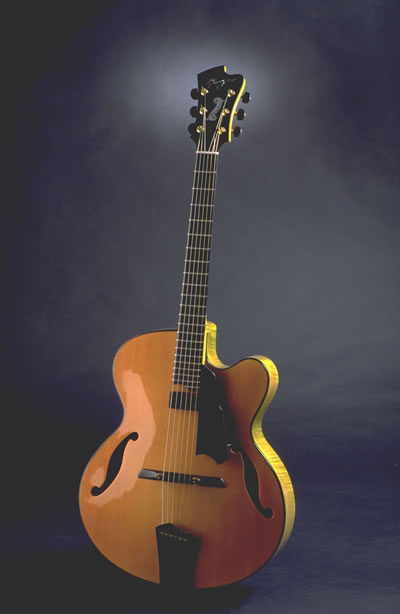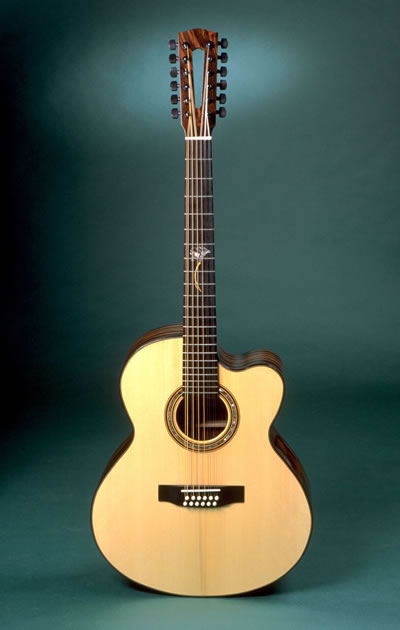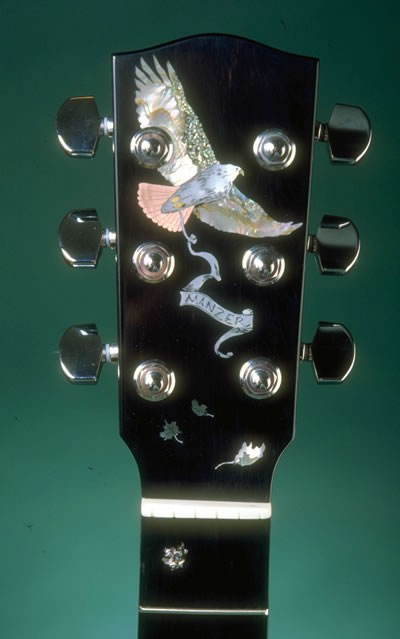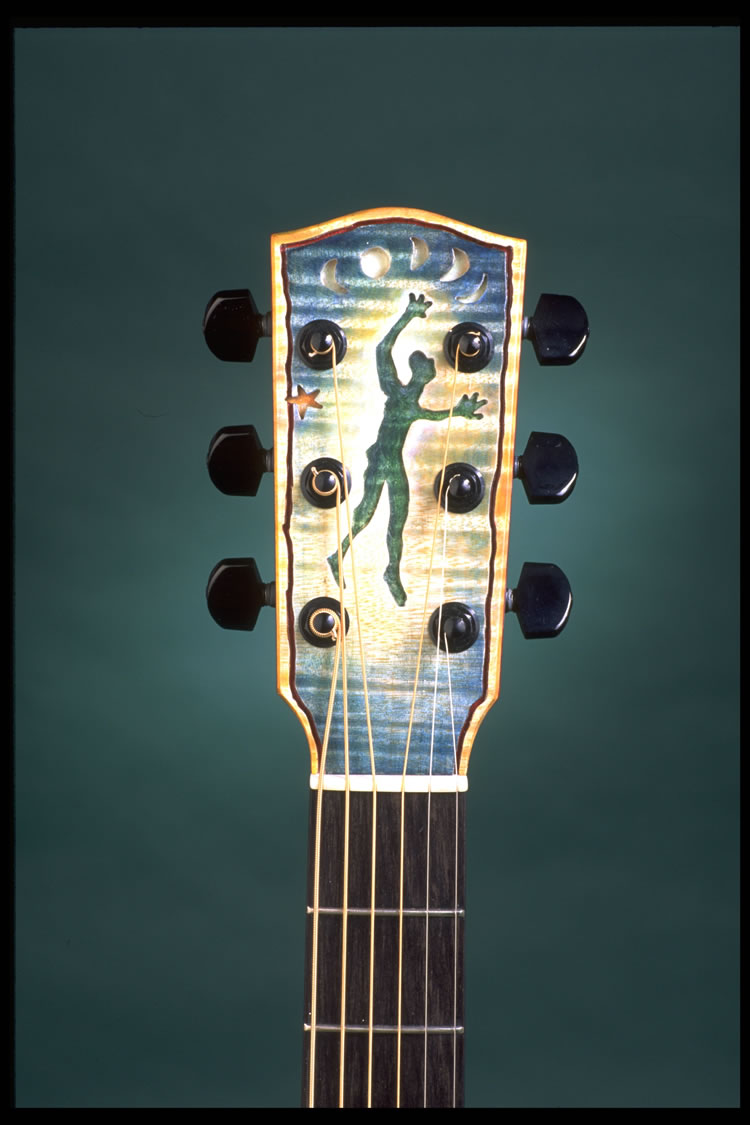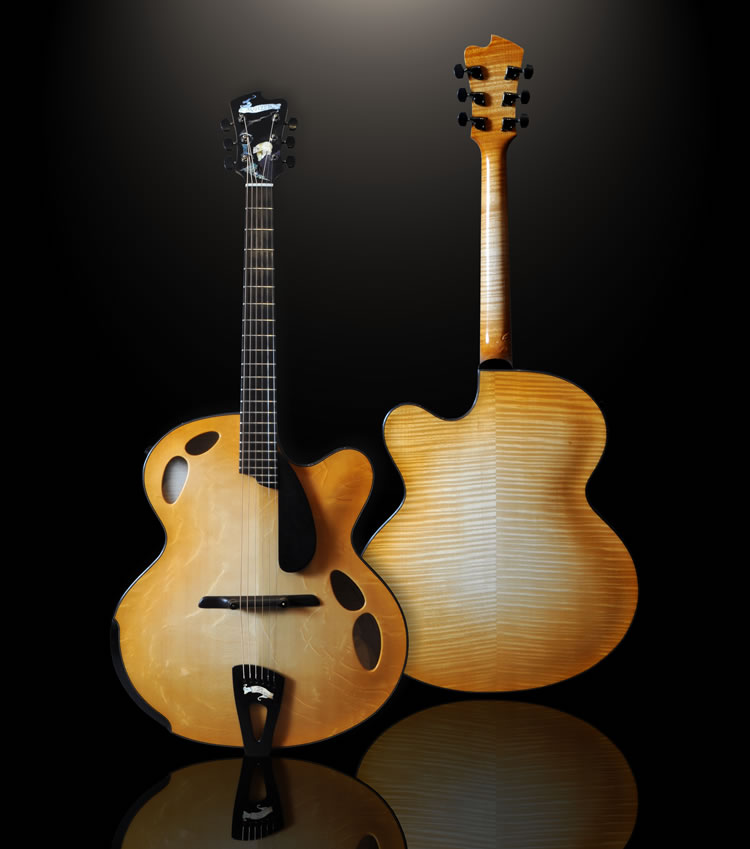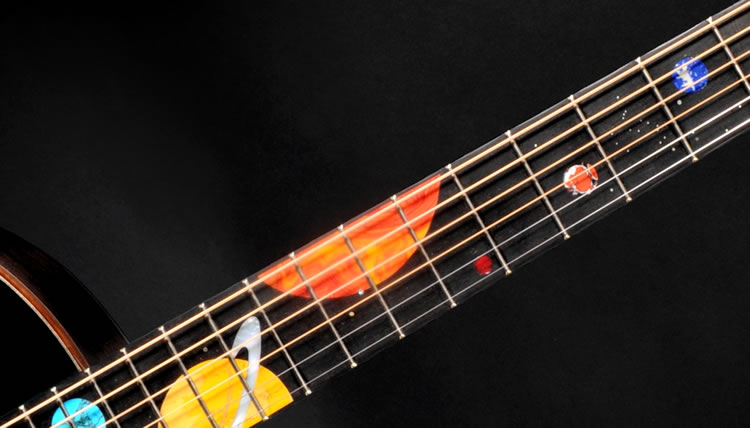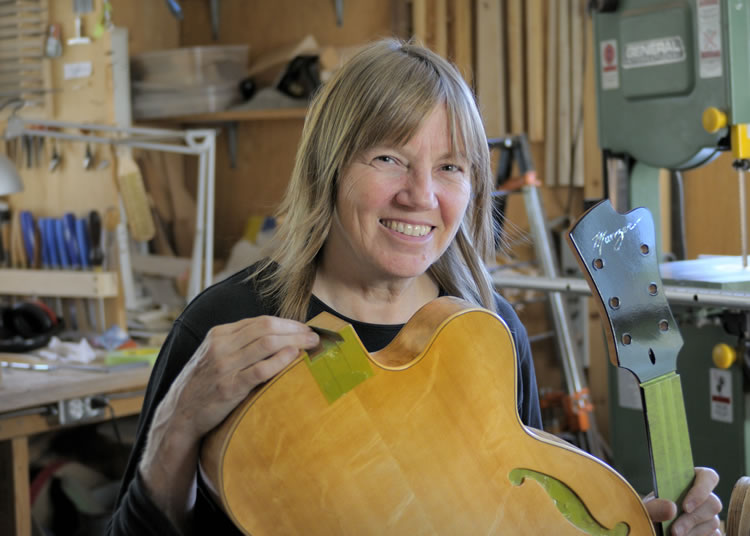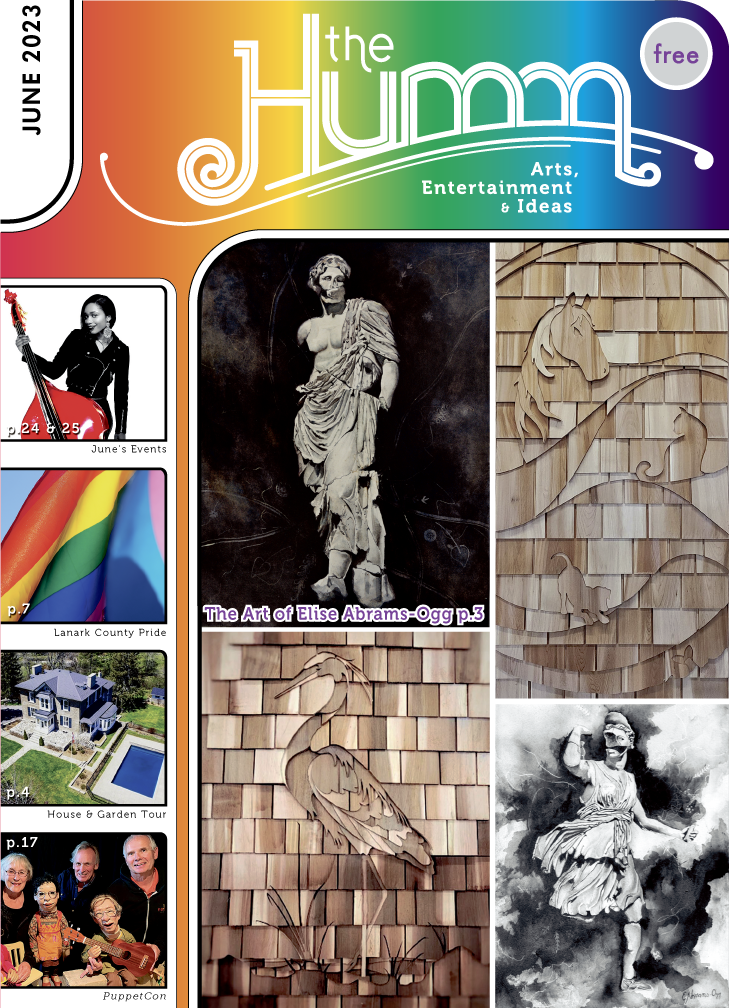 (pdf)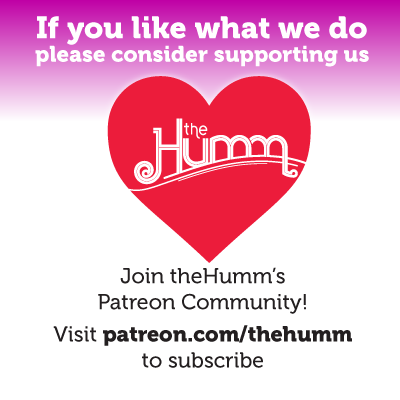 June 2023