Jennifer Noxon, Painter
Date Published: Fri, 01 Jan 2016
A Duet of Art and Music
Almonte-based artist, singer and songwriter Jennifer Noxon views her artistic and musical creativity as intersecting spirals, and she lives accordingly. At the moment, her life is in a creative whirl as she choreographs a new pas-de-deux. Last June, Jennifer stopped commuting to a full-time job in Ottawa with the intention of offering her skills and creative energy to her community. "I'm shifting gears, so to speak," says Noxon. "My ultimate goal is to find a way to live and work in my community."
Exploration is an essential component of Noxon's creativity. Her current art work celebrating Almonte's connection with the Mississippi River is a case in point. On her website she explains, "When preparing for this show, I took on three challenges. The first was to create work that would be 'local' in theme. The second was to explore a different medium. The third was to 'do a 180' — diverge from the abstract mode I have been exploring these past few years and return to representation. Why take on these kinds of challenges? It's a bit like taking a cold shower: I wake up, practise new skills, and challenge myself to see things in new ways."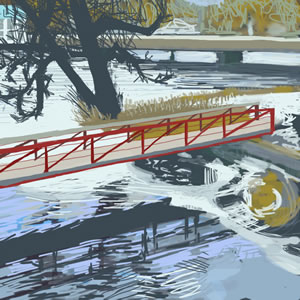 As a resident of Almonte since 2002, Noxon has grown increasingly aware of the importance of the river to the community — its residents, businesses, the larger community — and as an integral component of the natural world encompassing it.
Based on photos she took in -30°C weather, Jennifer painted the river series on her Apple iPad tablet computer using Procreate — billed as "the most advanced painting app ever designed for a mobile device… the award winning weapon of choice for creatives on the move." She was able to paint things in a very new and immediate way, while becoming "more conscious of the way our river intersects with its banks, the bridges, automobiles, humans, the sky, and the architecture."
For Jennifer, the possibilities this tool offered were irresistible — no more waiting for paint to dry, or dealing with messy clean-ups. The product proved as good as its claims — enabling her to "Explore the boundless freedom of a huge library of pens, pencils, and brushes on one portable device." It was validating to discover that David Hockney, considered one of the most influential British artists of the 20th century, has been painting on his iPad since 2009. (Jennifer wrote and performed a song about Hockney on her 2001 CD Sweet.)
Noxon painted her riverscapes on her iPad with a conductive brush and her fingertips, without a preconceived idea of the finished work, "relying on her visual vocabulary of organic forms, texture, negative space and colour." The amazing results of her exploration are titled "Almonte's Mississippi: Points of View," and her prints remain on display throughout January at General fine craft, art & design at 63 Mill Street in Almonte.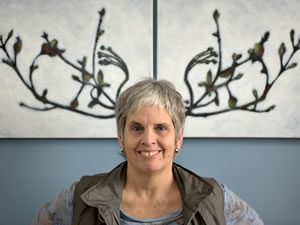 The Magnetic Properties of Creativity
The creative process is the attraction. For Noxon, it doesn't matter if it's creating lyrics, a melody, a painting, a recipe or a whimsical sculpture fashioned from objects found along the sidewalk. As she puts it, "This is when I feel most alive, most vital and most connected to the world."
She was born in Toronto and excelled in the arts and sports during high school in Don Mills. After working in Banff for a year on a ski hill, she studied graphic design for a year in Toronto and then returned to the West. She completed a three-year diploma in Fine Arts at what is now the Kootenay School of the Arts in Nelson, B.C. After working for a couple of years as an art installer and a painter of theatre sets, Jennifer returned to school for a B.Ed. at Concordia University in Montreal.
Noxon claims she developed her sense of humour after graduation while teaching English as a Second Language (ESL) in Japan for a year. Her coping technique was to laugh at everything she didn't understand. For twenty-five years she has enjoyed "the best job in the world" — teaching ESL and literacy, and training volunteers to work with immigrants who were homebound. The combination of doing something productive that required lots of creativity suited her perfectly.
A Musical Interlude
During her thirties, Jennifer turned to her childhood love of singing and music to connect with others. Her mother remembers her singing opera in her sandbox when she was four years old. For many years she participated wholeheartedly in Writers' Block, a songwriters' support group that met at the Ottawa Folklore Centre. Along with contemporaries Christine Graves, Tony Turner and Lynn Miles, she grew and matured as a singer and songwriter. (Turner was in the news recently for writing and performing the hit song Harperman – A Protest Song.)
After winning a songwriting competition in 1997, Jennifer performed at festivals, coffee houses and house concerts in Ontario, Alberta and BC. She has toured with Lynn Miles and Ian Tamblyn, and shared stages with Dar Williams, Garnet Rogers and Stephen Fearing. In 2004 she joined with Ottawa-area songwriters Chris MacLean and Alise Marlane to become Frida's Brow. In 2006 their début eponymous album was nominated for a Canadian Folk Music Award.
Shifting Gears
Over time Noxon realized that she wasn't cut out to be a travelling solo musician and she gradually shifted gears to focus on painting. Her move to Almonte was a powerful stimulant. Nature has always been her "best teacher and primary source of inspiration." Paddling on the Mississippi River and wandering along its banks and over Almonte's multiple bridges led her to discover and celebrate the extent to which the river is at the heart of the town's character.
A Balancing Act
With her river series of paintings still in progress, Noxon has been exploring new routes to satisfying the demands of both her introverted and extroverted selves. She has just returned from a Community Choir Leadership Training Course in Victoria, B.C., and is planning the launch of the Rhythm & Song Community Choir in January. As part of the Ubunto Choirs Network, the Almonte-based choir will be inclusive, non-auditioned, community-focused and socially engaged. No formal music training is required. If you are curious about this fun, stress-free new Community Choir, contact Jennifer Noxon.
In preparation for her new directorial adventure, Jennifer is rehearsing a "pop-up" choir for its first public appearance during the "Live from Mississippi Mills – It's Saturday Night" variety show on Saturday, January 16, 2016 at 7:30. The choir plans to pop up at the Almonte Old Town Hall, harmoniously located within sight of the Mississippi River at 14 Bridge Street. Come check it out.
Get in touch
For full contact details, visit theHumm's Local Directory.
Humm profile by Sally Hansen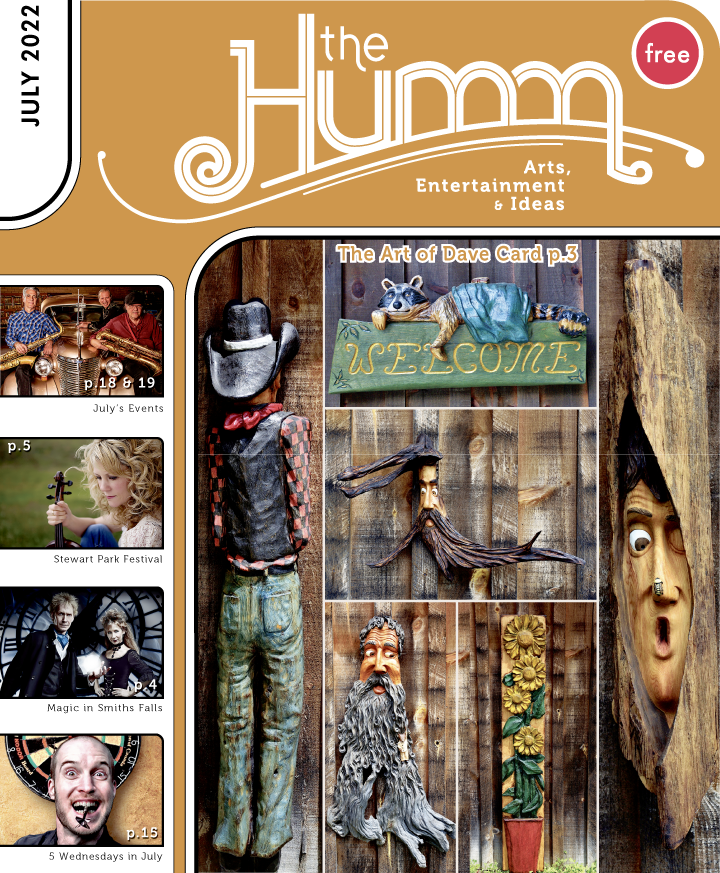 (pdf)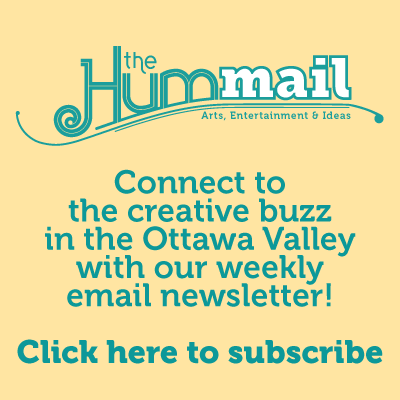 July 2022