5iz Photography Collective Profile
Date Published: Tue, 01 Sep 2015
The diverse and superb results of five photographic eyes behind multiple lenses are on display in September 2015 at Almonte's Mississippi Valley Textile Museum. Robin Andrew, Dale Dunning, Bill Pratt, Rod Trider and Bill Young present an intriguing display of their photographic art. Appropriately titled "Madly Off in all Directions," the result is a testimony to their extraordinary imagination, individuality, ingenuity, inspiration and intuition. The show is an eye-opener to anyone interested in the potential of digital photography.
Challenging Comfort Zones
For the past five years the members of the 5iz Photographic Collective have shared, discussed and critiqued each others' images, expanding horizons and pushing the boundaries of their comfort zones.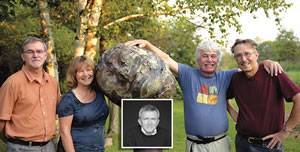 Bill Pratt travels the globe to capture stunning images of wildlife and landscape. Pratt is well known to Valley audiences for his audio-visual presentations of our vast Canadian natural world that has formed him and is responsible for many of the national characteristics for which Canadians are known.
Back in 1990, as a civil engineer with Parks Canada, he logged 4500 miles in an RV to produce a slide presentation on Canada's historical sites. Since we featured him in December of 2004, Pratt has extended his photographic reach to shoot in Ireland, China, El Salvador and Antarctica, travelling recently to the far north (Svalbard) with fellow 5iz member Bill Young. While Pratt has expanded his geographic and artistic horizons, and converted from film to digital technology, Canada remains his primary passion and his focus. He continues to pursue his mission of reminding us of the greatness of our country, to fuel our desire to keep it and our values and principles intact.
Like all of the 5iz members, he is committed to continuous improvement and growth as a photographic artist. The knowledgeable critiques, and the continuous exposure to different ways of seeing and creating images coax him out of his comfort zone.
On his website, Bill Young's gallery offers a spectacular collection of images from around the world. From Svalbard to South Africa, from the ruins of Greece to the modern architecture of Dubai, from frosty Ottawa to the heat of Sossusvlei in Namibia, his subject matter is as eclectic as his locations. A leisurely scroll through his "Favourites" and his recent works quickly substantiates the inclusion of this Kanata-based photographer as a member of the otherwise Valley-based 5iz collective.
Always visually oriented, Young finds photography the perfect medium for expressing himself, seeking to tell a story with each photo. He values workshops, believing that sharing and comparing techniques and perspectives is endlessly inspiring. A long-time member of the RA Photo Club in Ottawa, Young initiated the club's feedback group in 2002, and was co-winner of the Photographer of the Year award in 2007. He is also a member of the Canadian Association for Photographic Art (CAPA), and contributed an article on fine art printing to their Canadian Camera Magazine.
Studio photographer Robin Andrew stays closer to home geographically, but constantly explores and invents techniques to lure the most natural portraits from even the most reluctant subjects — little boys who can't be reasoned with, and daddies who hate to have their pictures taken. Clients can assemble in her large and creatively equipped country studio near Carleton Place and discover her uncanny ability to convert a notoriously stressful occasion into fun. Since we featured her in January of 2007 she continues to redefine "studio." She and her crew will also bring her unposed studio to your event as well as to your office.
It's not just the props and the toys that enable Robin to capture genuinely happy and totally relaxed expressions on subjects ranging in age from three months to 85 years old. It's her totally disarming personality, her ingenuity, her patience, her technique and her ability to create opportunity. Any photographer who generates a waiting list of candidates to pose nude for successive editions of the "Nudes of Mississippi Mills" fundraising calendars has a gift for connecting with people.
In 2010 Ottawa Metro readers recommended Robin's unposed as one of the "Top 5 Photographers in the Ottawa region", and the Ottawa Business Journal featured unposed as a 2015 market leader. Although she works hard to make her photographic subjects at ease, she strives to push the limits of her own comfort zone, welcoming the inspiration and the challenge provided by her 5iz participation. Check her website for examples of the creative, fun, full of energy photos she elicits from private and business clients alike.
Rod Trider is a photographic-based multi-media artist, master digital printer, national and international photographic competition judge, teacher and presenter. Committed to finding an original creative slant in every photographic opportunity, he experiments with new techniques of processing, printing and presentation so that each work stands out. This includes working with metal, glass and transfers to wood, as well as using epoxy resin.
Rod exhibits extensively in art galleries, art shows and public spaces across North America, and has works in collections around the world. He has curated or co-curated over twenty art exhibits, and teaches and presents at photo clubs, regional conferences and at SPAO – School of the Photographic Arts Ottawa. He is an international photographic competition judge, teaches judging for CAPA and the Greater Toronto Council of Camera Clubs, and currently is Vice President of CAPA. At 5iz he too benefits from the feedback and creativity of the others.
Last but definitely not least is Dale Dunning, with his infallibly unique take on every subject. Anyone familiar with Dale's highly prized sculptures expects to invest some effort in discerning even a portion of the possible interpretations of his pieces. Since his appearance in our May 2000 issue, his artistic repute has continued its steady rise; he just learned that one of his bronze sculptures has been purchased by a designer in NYC for a client in the world-famous Dakota Apartment Building.
Dale became interested in photography as he experimented with documenting and publicising his sculptural art. When asked for an adjective that starts with the letter 'i' to describe the 5iz, he immediately offered "Inscrutable." Dunning's "Nature Morte" photographic series comes close. It took quite a while before the underlying subject matter revealed itself to me. Many photographers cite the biggest advantage of embracing the addiction as enhancing their ability to see things. Dunning elevates the skill to new dimensions. He shows us new things by camouflaging and hiding things that are right in front of our eyes. Characteristically, possible interpretations of his new art images are abundant, and indeterminate. Whether you like puzzles or abstract art, "Nature Morte" is unusually intriguing.
Madly Off in All Directions
The 5iz Photographic Collective are displaying their disparate but equally rewarding approaches to art photography from September 17–27, 2015 at the Mississippi Valley Textile Museum at 3 Rosamond Street East in Almonte. There will be a public vernissage on Wednesday, September 16, from 7–9pm. On Friday, Sept. 18, from 7:30–10pm you can enjoy "An Evening of Visual Splendor." Bill Pratt, Bill Young and Dale Dunning will present six audio-visual shows, with the entire ticket price of $25 to be donated to the Museum. The doors open at 7pm, so you can browse the full exhibit, settle in for two and a half hours of exceptional photographic art and discussion, and support a very worthy heritage institution.
Get in touch
For full contact details, visit theHumm's Local Directory.
Humm profile by Sally Hansen